Q-Handrail
At Q-railing we understand what architects have always known: although handrails may be necessary for safety purposes, done well they are a jewel, an integral part of the building's aesthetics. That's why our designers put as much focus on the details of our Q-handrails as they do on our other railing systems.
Q-handrail's wide selection of brackets provides an extensive range of design possibilities. Round brackets, square brackets, brackets for walls, baluster posts, and glass – it's all available. You'll especially appreciate the unique, clean look of our high end bracket with blind attachments. The perfect combination of round and rectangular shapes with one fluid look, this bracket has no visible screws.
Q-handrail also includes nearly seamless pre-engineered fittings, with no visually disturbing lines to negatively impact your design. Combined with our high end bracket, Q-handrail can create a stunning look. In addition, our designers have created flexible fittings that quickly adjust to any angle, and simple solutions for difficult areas of all types, including corners, angles and ends.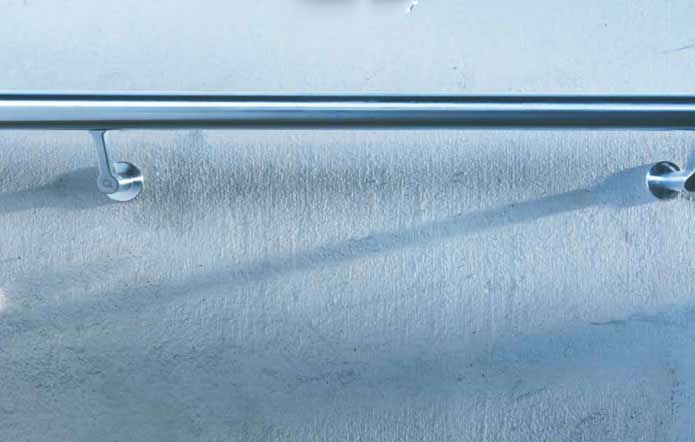 Q-Handrail SPECS
Keep everyone safe with this dramatic square handrail. Easily installed on site, the Square Line handrail has no visible screws. A broad range of connectors, endcaps and fittings are available to complete your design.
Commercial or residential use
Indoor and outdoor
Material: stainless steel (316 quality)
Mono or laminated glass
Suitable for all walls
Estimated fabrication and installation time: 15-20 minutes per meter (3.3 linear feet)